Around the Farm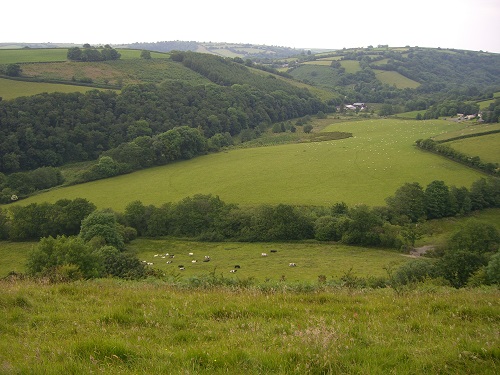 We are based on a 290 acre livestock farm in Carmarthenshire in West Wales. We have sheep, cattle and horses, as well as being the biggest falcon breeding centre in UK. About twenty people work at the farm, breeding falcons or working on the conservation programmes. There are several farmhouses and cottages. The houses are served by radio broadband beamed across from Carmarthen. They have geothermal heating and the three main steadings have solar panels. To undertake the conservation projects we need places to work and study, and facilities for visiting students and volunteers.
Since 1983 we have demolished 24 buildings and sheds and have built or re-furbished 41 buildings and pens. The main buildings tend to be stone, with slate or turf roofs. While we are concerned about low energy inputs in construction, we are also concerned about length of life. Some of our buildings are already 300 years old and we hope that our new builds are capable of surviving this long too. We have followed some of the 'sustainable' building projects in west Wales with interest, but, knowing how quickly untreated natural materials deteriorate in this climate, we are not convinced that this approach is realistic in the long term.
We are restoring tradional buildings with sympathy to both the past and the enviroment. This means using recycled and re-porposed materials as well as modern eco-friendly products.
Energy and carbon
Nine of the buildings are heated by geothermal, using heat extracted from boreholes. Three of the buildings have solar panels totalling 52 kw. Geothermal is not cheap to install, nor is solar and the government tariff changes are making these no longer viable for start-ups at the moment. Geothermal is quite heavy on electricity but the advantage of both systems is that they are carbon free in operation and do not require daily feeding. We have plenty of firewood, and looked at various types of biomass boilers but these require us to cut, stack and store firewood, then feed the boilers every day.
Because our buildings are scattered, this is not economical and burning wood still emits carbon.
We do still have some log fires which we use in winter as supplementary heating. We have examined hydropower from the lake, which has a head of 10 metres. It did not compare favourably with solar, but now tariffs are changing we may re-visit it. Our vehicles and machinery are all diesel and petrol. The tractors run on red diesel for farm use. We use quad bikes all the time on the farm because they damage the soil less than bigger vehicles and can go on the slopes. Maybe soon we will be able to replace them with electric quad bikes run off the solar panels.
As we have bought the farms there has been an awful lot of mess to sort out. At one location we had to dispose of 60 lorry loads of farm waste. At another there were 2,000 old tyres to remove.Agricultural waste in the environment is an ever-growing problem.
As things like silage sheets, chemical drums, tyres and waste oil become more and more expensive to dispose of it becomes more difficult for farmers to be able to afford to comply with legislation – with the inevitable results. Equally, as resources and funding for bodies like NRW become tighter, there is less enforcement and so the problem grows.